Artificial Turf and Grass Lawns Installation in Bakersfield
Artificial turf and grass from Southwest Greens is a high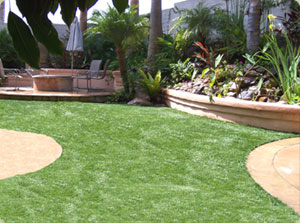 quality, fine synthetic product that can be used for residential or commercial lawns and golf areas. With our product, you can cut out the yard work and spend your weekends playing golf with your friends and family.
Imagine a surface that stays green all year, doesn't need to be watered, mowed, or even fertilized. Now, imagine just what that can do for your home. While your neighbors are spending their weekends scuffling with the lawnmower, you can step out into your backyard with the kids and enjoy some summer fun while putting your way to a better golf score.
Our turf and grass products work well for residential and commercial, indoor and outdoor areas. Expert construction and design go into each installation project, giving you a surface that will hold up to harsh winters, and hot, humid summers.
Contact us today and get the best turf and grass products on the market for your residential or commercial areas!