Best Drought Tolerant Grass? Try Our Low-Maintenance Artificial Turf!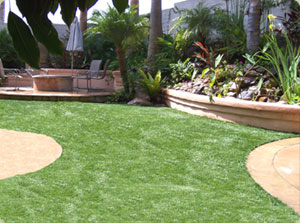 When you want a pristine lawn without the need to fertilize or mow, then Southwest Greens of Bakersfield has your solution: artificial turf landscaping. We can give you a lawn that simulates the look, feel, and performance of natural sod for all yard types and sizes. Our turf fibers are soft to the touch and have a natural feel when walking barefoot on the surface. Besides its low-maintenance care, you also get extreme durability for high-traffic uses. his makes artificial grass the perfect lawn alternative for active families that might need pet turf or a kid play area.
Our artificial turf grass installations provide a wide range of conveniences for families:
No more mud
Safe for kids and pets with allergies
Select products built with Hydrachill™ technology to keep the surface temperatures cool
Super low-maintenance landscaping
Turf is perfect solution for drought tolerant grass
Southwest Greens expanded its services into Bakersfield to provide a landscaping alternative for the area. Since California restricted outdoor watering, homeowners are looking at other ways to achieve desirable curb appeal. Our options allow you to have a beautiful lawn without much water and repercussions from your neighborhood HOA.
We Offer Eco Friendly Landscaping and Grass for Every Space
We have several turf grass installation options to choose from. When you schedule your free on-site initial consultation, our team will be more than happy to provide you with an eco friendly landscaping sample!
Southwest Greens of Bakersfield provides the following artificial turf samples:
Bolt collection
Bonar collection
Cushion collection
Play Safe and Play Safe Select collections
It's so easy to transition to drought tolerant grass! Install an artificial grass yard. Our expert installation team can seamlessly fit it into your existing landscape design. You can also opt for a complete lawn overhaul with a complete landscape build.
Contact Southwest Greens for Your Free Artificial Turf & Grass Installation Quote
Artificial grass lawns are becoming the mainstream now, and you will save so much time on yard maintenance. Start your conversation with Southwest Greens of Bakersfield today! You'll be impressed with how realistic our options look and feel, thanks to the decades we spent refining our artificial turf products.