About Us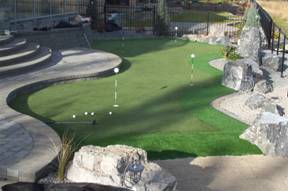 Hello, my name is Mark Swaim. Bakersfield has been my home my entire life. Being born and raised here I feel a definite sense of family and community and I strive to pass on the traditions that I know with my children, grandchildren and someday great-grandchildren. Admiring my father and being eager to golf with him, I began my golfing career by putting and chipping into a laundry basket in my back yard. My father was a stickler for etiquette and would not let me on a course until I proved myself. I went on to play golf competitively in high school and never lost the love for the game. Every chance I get, (which if you ask my wife is everyday) to play, I do so, it's easy with a Southwest Putting Green in my own backyard. It amazes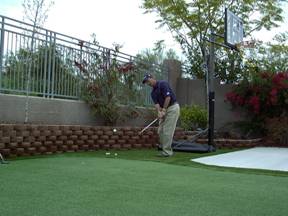 me how true the greens created by Southwest Greens feel and I am proud to be a part of the company. It is very exciting to have the opportunity to provide a place for young, up and coming golfers to improve their game, or even for some old timers like me. I look forward to working with you to develop your own personal backyard putting green.
At Southwest Greens of Bakersfield we strive to meet and exceed every expectation of our customer. Our attention to high standards and quality workmanship makes us a leader in the industry. With the knowledge and dedication of our suppliers, we at Southwest Greens of Bakersfield are able to offer high quality, state–of–the–art materials. Whether you are looking for a place to practice your game, putt with your kids, or invite a few friends over to work on your short game, Southwest Greens of Bakersfield can help you achieve your goal. With our excellent design creativity we can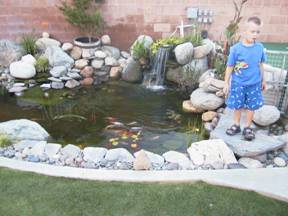 build a paradise in your own back yard. Besides putting greens we also design and install Waterscapes, Koi Ponds, or Hardscapes to complete your backyard paradise.
Call us today and start enjoying your own personal Southwest Putting Green.
Don't forget "You Drive for Show & Putt for Dough"
Why is Southwest Greens considered the best in the world at what we do? First, we believe in attentiveness to detail. Ours is an installation business, and we believe in providing a solution, not a sale, for our valued clientele. We follow this up with full technical support for each installation.
Southwest Greens was started in 1996 by Weston Weber, and we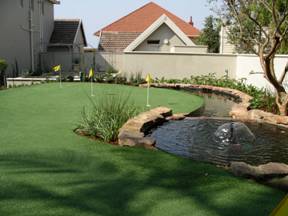 have 92 offices worldwide, with more on the way! We have 64 franchise offices in the U.S., and worldwide franchises in 15 countries, with Saudi Arabia, Indonesia, Malaysia, and Singapore on the way!
Our prominent brand recognition is in part due to the numerous pro athletes endorsing and using our product, including the "Premium Line" of Nicklaus Design putting greens we use for our championship-rated greens and courses. Worldwide website exposure and highly visible national advertising aids our respected image as leaders in quality artificial turf as well.
Our passion for what we do is the key to our success! We take extra care for each client, making sure your complete satisfaction – and enjoyment – is guaranteed!