Southwest Greens of Bakersfield Offers Artificial Grass Installations for Pet Areas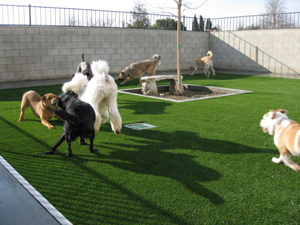 Our artificial pet grass is the perfect fit for pets of all kinds in Bakersfield. For artificial turf Bakersfield, CA residents love, turn to Soutwest Greens. Our synthetic grass products require little-to-no maintenance to retain their perfect look and feel year-round. Let pets enjoy the freedom and fun of a customized pet-proof yard! If you want to give your pet a special treat or are just looking to upgrade your outdoor space, call Southwest Greens today to make it happen!
Southwest Greens creates all our products using the finest artificial turf the industry has to offer. Our artificial grass is made with top best quality 7600 denier polypropylene synthetic grass fibers that provide durable, lifelike quality. We are proud to offer residents of Bakersfield artificial pet grass that offer an ultra-realistic look and feel, as well as the highest level of quality for a long-lasting installation!
Benefits of Bakersfield CA Artificial Grass Installations Include but are Not Limited to:
Get rid of dead spots from urine
Synthetic turf reduces allergens
Turf installations exterminate pests and insects
Reduces the chore of raising pets
Our synthetic turf is 100% safe for pets
Eliminates dirt areas where grass doesn't grow
Reduces dirt and grass tracking in the house
Eliminates down time from seasonal weather changes
Dogs LOVE synthetic turf
Synthetic turf for pets is great for: entire backyards, small, contained dog areas, areas with hard to grow conditions. Bakersfield, CA artificial grass for pets allows pet owners more opportunity to enjoy their pets rather than spending time maintaining natural grass. Don't be frustrated with your pet - enjoy your pet!
Why should I choose Southwest Greens for my pet?
Customer Satisfaction is Our Number One Priority
Southwest Greens stands by its products and installation with exceptional customer service. We provide a fifteen-year limited warranty on our products and a workmanship warranty that far exceeds the industry norm.
Southwest Greens Offers More Than 20 Years of Installation Experience
Southwest Greens has been installing and engineering turf for over 20 years. Our research and development of turf systems including Pet Turf Systems is a leader in Pet Turf Systems. Our experienced installers have mastered the art of synthetic grass installation and will work to find the right pet solution for you.
Our Pet Turf is 100% Safe for Pets of All Shapes and Sizes
Using synthetic grass avoids exposing pets to harmful fertilizer and chemicals often found in natural grass, and the very nature of our products eliminates itching and sneezing associated with real grass. Fleas, ticks and bugs are also kept away with synthetic lawns.
Synthetic Pet Turf Rids Yards of Yellow, Dead Spots!
Synthetic grass will not leave unsightly, yellow dead spots. Topical antimicrobial applications are available to help eliminate bacteria and avoid odors from urine and solid waste. The usual clean-up is made easier with synthetic lawn. If necessary, rinsing from a garden hose takes care of most issues. Muddy paws are eliminated by the clean nature of synthetic turf.
Southwest Greens Offers Bakersfield, CA Artificial Grass Products Throughout Central California
Our service areas include but are not limited to:
Bakersfield
Lamont
Oildale
Calder's Corner
Di Giorgio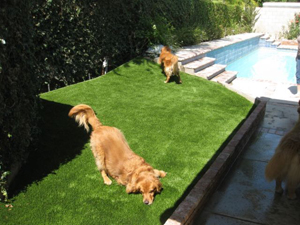 Contact Southwest Greens of Bakersfield
At Southwest Greens of Bakersfield, we exceed every expectation of our customers. Our attention to detail and quality workmanship is undoubtedly a huge reason why we're a leader in the industry! With the knowledge and dedication of our suppliers, Southwest Greens of Bakersfield can offer high quality, state-of-the-art turf!
No matter the space or vision in mind, Southwest Greens of Bakersfield can help you achieve your goal! With our excellent design creativity, we can use artificial turf to build a pet paradise in your own backyard! Call us today and let your pet start enjoying the freedom and fun of a customized pet turf installation from Southwest Greens of Bakersfield!