FAQs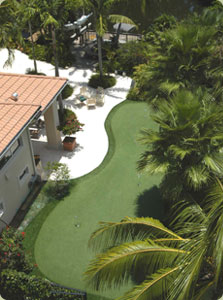 Our FAQ page is designed to help you answer any questions the other pages of our site did not answer. This section will contain information on our Southwest Greens of Bakersfield putting greens, and California putting greens. Our FAQ's will also answer your questions about our artificial grass and synthetic turf products, as well as construction and installation of your custom home designed Nicklaus Golf Green.
If you have further questions regarding any of our professional quality golfing equipment, that have not been answered, please feel free to contact us. Thank you for visiting Southwest Greens of Bakersfield.
Frequently Asked Questions:
Are Bakersfield backyard putting greens relatively inexpensive?
Does Bakersfield artificial grass require much maintenance?
Is installation of Bakersfield golf greens available for both residential and commercial application?
Will my Bakersfield putting green be made of durable material, as opposed to nylon?
Will your Bakersfield indoor putting greens fit in my home?