Artificial Grass Installations for Bakersfield Play Area Surfaces
Enhance your children's play area with a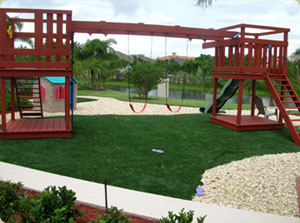 durable synthetic turf lawn that requires next to no maintenance, and is safe and non-toxic for kids and pets! The same thought-process that goes into our PGA pro-endorsed golf greens goes into our turf lawns and play area surfaces.
We take yours and your children's safety very seriously. That's why we craft our artificial grass lawns with a highly durable polyethylene synthetic fiber that won't tear or fray, causing possible injury. Our synthetic turf lawns hold up beautifully to harsh heat and blistering cold, as well. They stand up to years of foot traffic, requiring only the occasional hose-down!
You and yours deserve a product this good! Our installation crews will help figure out the best configuration for your backyard or even indoor design.
Southwest Greens Bakersfield – why go anywhere else? Contact us today for a free green consultation and prepare for endless fun in all types of weather. Oh, and the kids will love it, too!