Artificial Pet Turf Installations in Bakersfield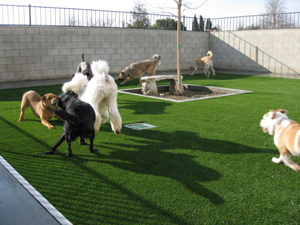 Our pet friendly artificial grass is the perfect fit for pets of all kinds in Bakersfield. For artificial turf Bakersfield, CA residents love, turn to Southwest Greens. Our synthetic grass products require little-to-no maintenance to retain their perfect look and feel year-round.
Let your pets enjoy the freedom and fun of a customized pet-proof artificial lawn provided by the turf installation experts! Call Southwest Greens today to give your pet a special treat or just upgrade your outdoor space.
Benefits of Installing Pet Turf
Get rid of dead spots from urine
Synthetic turf reduces allergens
Turf installations exterminate pests and insects
Reduces the chore of raising pets
Our synthetic turf is 100% safe for pets
Eliminates dirt areas where grass doesn't grow
Reduces dirt and grass tracking in the house
Eliminates down time from seasonal weather changes
Dogs LOVE synthetic turf
Synthetic turf for pets is great for backyards, dog areas, and areas where natural grass is hard to grow. We offer Bakersfield, CA artificial grass for pets that allows you to spend more time with your furry friends and less time maintaining natural grass.
What does Southwest Greens offer my pet?
High Quality Products
Southwest Greens develops products using the best artificial turf the industry has to offer. Our artificial grass is made with the top best quality 7600 denier polypropylene synthetic grass fibers for a durable, lifelike quality. We're proud to offer Bakersfield residents artificial pet grass that features a long-lasting, realist look and feel.
Customer Satisfaction
Our team's number one priority is your satisfaction. Southwest Greens stands by its products and installation with exceptional customer service. We provide a fifteen-year limited warranty on our products and a workmanship warranty that goes past the industry norm.
More Than 20 Years of Experience
Southwest Greens has been installing and engineering turf for over 20 years. Our research has helped us develop quality turf that has made us leaders in the artificial grass business. You'll find experienced installers who have mastered the art of synthetic grass installation and work to find the right pet solution for you.
Safety for All Pets
The Pet Turf from Southwest Greens of Bakersfield is safe for pets of all shapes and sizes. Using synthetic grass avoids exposing pets to harmful fertilizer and chemicals often found in natural grass, and the very nature of our products eliminates itching, and sneezing associated with real grass. Fleas, ticks and bugs are also kept away with synthetic lawns.
Lush, Green Grass Year-Around
You won't find any yellow, dead spots in your freshly installed pet turf. You'll also find yourself spending less time tending to your yard, because there's really no maintenance! Your pet won't drag muddy paws around, and you won't have patchy grass even with consistent foot traffic from your furry friend.
Service Areas
Our pet turf installation services don't stop at the city line. Our team offers artificial grass products throughout Central California. If you're in one of the following areas and you need pet turf, call the experts at Southwest Greens of Bakersfield.
Bakersfield
Lamont
Oildale
Calder's Corner
Di Giorgio
Don't see your area listed? Call today and learn more about the cities we serve.
Pet Turf FAQs
What's the difference between pet turf and regular turf?
Pet turf is built with your furry friend in mind! This means better odor control, a safe surface, and a product that your pet will love.
Can pets pee and poop on turf?
Yes! Dogs, cats, and other animals can use pet turf just like natural grass. The difference is you won't see yellow spots, patches, or dead areas from urine and waste.
Does turf smell with pets?
Pet turf is specifically built to prevent common pet odors. If your turf does need a little extra odor control, there's a solution. Topical antimicrobial cleaning aids can be applied to help get rid of odors from dog urine and waste.
How do I clean pet turf?
Most of the time, all you need is a quick hose down to maintain your lush, green pet turf. As mentioned for pet odors and solid waste, there are topical treatments that eliminate bacteria if you want to do a deep clean.
Can dogs dig through pet turf?
Nope! One of the highlights of installing synthetic turf for pets is the prevention of yard destruction. You can worry less about filling holes and focus more on playing fetch!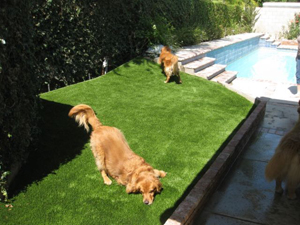 Contact Southwest Greens of Bakersfield
At Southwest Greens of Bakersfield, we exceed every expectation from our customers. Our attention to detail and quality workmanship is undoubtedly a huge reason why we're a leader in the industry! The knowledge and dedication of our suppliers lets Southwest Greens of Bakersfield offer you high quality artificial grass installations!
No matter the space or vision in mind, Southwest Greens of Bakersfield can help you achieve your goal! With our excellent design creativity, we can use artificial turf to build a pet paradise right in your backyard! Call us today and let your pet start enjoying the freedom and fun of a customized pet turf installation from Southwest Greens of Bakersfield!