Synthetic Backyard Putting Greens A Friend To The Environment

Southwest Greens of Bakersfield has had the pleasure of bringing the game of golf to the backyards of many of your friends and neighbors courtesy of our backyard putting greens. Those who've made the leap have seen it enhance both their game and their home, and in doing so have enjoyed the additional benefit of making their yard more environmentally friendly. Whether you know it or not, maintaining natural grass can have an ill effect on the environment. With one of our putting greens made from the finest artificial grass in the industry, those ill effects go by the wayside.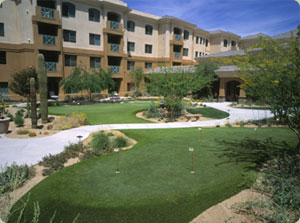 Exactly how can one of our golf greens benefit the environment? In this case it's a matter of what you won't have to do that will make all the difference. Namely the yard work we associate with natural grass and the pitfalls associated with it. Taken your car out for a 100 mile trip lately? If you've recently used your lawnmower for just one hour then you've done the equivalent. Another byproduct of mowing is the releasing of hydrocarbons into the air. Each time you mow this happens, and when it does those hydrocarbons float into the atmosphere and reinvent themselves as smog. Finally, synthetic turf eliminates the need for watering altogether. The average homeowner uses 25 gallons of water per square foot of lawn. In an era of water shortages that's just plain wasteful, but it's a number you can decrease significantly with a green made from artificial grass.
The common denominator in eliminating all of these issues is the low to no maintenance associated with synthetic turf. Nobody installs a Southwest Green to save the environment, but it's an awfully nice byproduct of experiencing the game you love in the comfort of your own backyard. Everyone likes to make a difference, and when all that's required of you to do so is to have fun at home then it's an easy thing to do.
Many before you have discovered the fun and enhanced home value associated with a Southwest Greens putting green. Bring a sense of convenience to the game you love, and share that love with family and friends without ever leaving your home. While you're at it, eliminate the lion's share of your backyard maintenance and the environmental pitfalls that come with it. It's the best of both worlds, and it's waiting at Southwest Greens.
Contributed by Southwest Greens of Bakersfield
www.bakersfieldputtinggreens.com