Putting Greens Are Fun for the Whole Family
While many golf enthusiasts love the idea of having a putting green in their very own backyard, it may not be such an appealing prospect for their families who think they might lose all that time with their loved one. That doesn't have to be the case, however! Installing artificial grass for your Bakersfield, CA home has a great many benefits, as do the putting greens – including fun for the entire family. That's right, backyard putting greens aren't just for Mom or Dad. Everyone in the family can enjoy the benefits of having your very own putting green!
Skill Development
Not only does a backyard putting green improve one's putting skills, but it also teaches valuable skills about life and in a fun way for children to learn them. Much like in life, golfers experience highs and lows, which can help children learn how to cope with adversity and win gracefully, both at school and in life. Practicing a skill like putting can also help them learn how to set goals, communicate with people and control their emotions better, along with teaching them sportsmanship, confidence and respect. Furthermore, practicing these skills together makes a great way to spend quality time with family!
Backyard Parties
It can be great to have your very own putting green in your backyard to focus on improving your skills, but you can do so much more with it than just lowering the strokes on your game. Add some decorations and invite a few friends over and you have a great activity ready for a party or barbecue! It's also a great theme for birthday parties or any other excuse to get together, really. Install some night lighting and the party doesn't have to stop just because the sun goes down. Turn your backyard into a fun hotspot for your family and friends.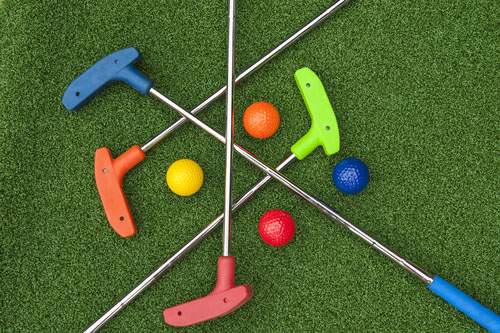 Getting Outside
In this modern age, everybody is plugged in 24/7. Between game consoles, computers, tablets, and smartphones, it can be difficult to get away and enjoy the outdoors. It can be especially difficult to get the little ones interested in going outside, but having a fun activity right in your backyard, such as a synthetic putting green, is a perfect way to get yourself and the kids outdoors for some fresh air and exercise. You can even encourage creativity while challenging your putting skills by creating obstacles out of toys, specialized course pieces or other household items. The only limit is imagination!
Turn your backyard into a fun, family-focused activity center with your very own artificial grass putting green. Call Southwest Greens of Bakersfield, CA at (661) 834-7888 or contact us online today for a FREE consultation!